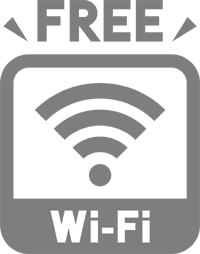 Wireless Internet is available in all guest rooms and throughout the hotel free of charge.
Hot spring village close to Hiroshima.
100% pure hot spring with thick texture.

"Yuki Onsen" reportedly discovered 1500 years ago.
Surrounded by a tranquil environment along the valley, the open-air bath heals the mind and body while watching the clear stream of the Minochigawa River and the scenery of each of the four changing seasons.
Please enjoy the hot spring water of Yuki Lodge which has been loved by people since ancient times. This hotspring is Flowing from the source.

The bounty of nature that can only be tasted here

At Yuki Lodge, cook the seasonal ingredients of the season that the chefs are doing.
You can enjoy mountain dishes, sea dishes, and various creative dishes.
A luxurious plan with a set of Japanese beef steaks is also available.

lifted from November
You can savor healthy, nutritious, boar and wild game meat dishes.
Yunoyama Onsen

Yunoyama Onsen was discovered about 1200 years ago and was built by Hiroshima feudal lord Yoshinaga Asano in 1750 in the Edo period.
Yunoyama Onsenkan is located at the back.

This is a specialty of the pouring hot water that flows down from the bedrock 4m above the ground.
That has a cold source of 23.5 degrees Celsius, but has a reputation for being good for stiff shoulders and neuralgia.

Experience traditional Kagura performance

At Yuki Lodge, twice a month on the second and fourth Sundays of the month,
Kagura performance by Kagura Orchestra in Hiroshima City.

You can experience the power of Hiroshima's "Kagura", a traditional performing arts spread in front of you.
After enjoying Kagura, enjoy banquets and hot springs.

Kagura : sacred Shinto music and dance.
---
Events
We hold various events to make your use more comfortable.
---
Service